General
We ship to addresses within the USA only (including Alaska, Hawaii, and DC). Shipping season is approximately from mid-April to October 15, weather permitting. We ship by Priority Mail only, so you should receive your orders approximately two to three days after we ship. (We will notify you when we ship.)
If you are not going to be home for a period (e.g. on vacation), please make a note in the Comments box (on checkout), and we will adjust the shipping date so that your order will arive when someone is home to receive it.
Plants are shipped in 2

" to 2½" pots. If we run out of any of the plants in your order, we can substitute with something similar. You may list several plants in the Comments box (on checkout), so that we can better meet your wishes. If you do not want substitutes, put "No substitutes" in the Comments box, and we will adjust the total order amount accordingly.
Plants are wrapped and packaged with great care, and we guarantee safe delivery. Notify us within three days if any plants are damaged. (A broken leaf is not considered damaged; neither is broken crown on a Sinningia — the tuber will resprout.) After you receive undamaged plants, we cannot guarantee their continued wellbeing, as that will be affected by the type of care they receive.
Shipping Charges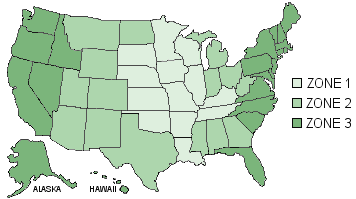 ZONE 1 (AR, IA, IL, KS, KY, LA, MN, MO, NE, OK, SD, TN, WI)
| | |
| --- | --- |
| 1 to 6 plants | $11.00 |
| 7 to 12 plants | $14.00 |
| 13 to 20 plants | $18.00 |
| 21 to 25 plants | $23.00 |
| more than 25 plants | $23.00 + 50¢ per additional plant |
ZONE 2 (AZ, AL, CO, GA, IN, MI, MS, MT, ND, NM, OH, TX, UT, WV, WY)
| | |
| --- | --- |
| 1 to 6 plants | $12.00 |
| 7 to 12 plants | $16.00 |
| 13 to 20 plants | $19.50 |
| 21 to 25 plants | $26.00 |
| more than 25 plants | $26.00 + 75¢ per additional plant |
ZONE 3 (AK, CA, CT, DC, DE, FL, HI, ID, MA, MD, ME, NC, NH, NJ, NV, NY OR, PA, RI, SC, VA, VT, WA)
| | |
| --- | --- |
| 1 to 6 plants | $13.00 |
| 7 to 12 plants | $18.00 |
| 13 to 20 plants | $22.00 |
| 21 to 25 plants | $31.00 |
| more than 25 plants | $31.00 + $1.00 per additional plant |